NEWS ALERT Jan - June 2015
June 27, 2015
Microchips Work If...
If lost, a microchipped pet is far more likely to make it safely back home than one who isn't.

Routinely vet offices, Rescue Groups and City Shelters are scanning cats and dogs for ID and helping lost pets get reunited with their owners.

When cat #130615 landed at HAS earlier this month he had a microchip. So staff went to work trying to locate his owners. BUT the contact info didn't work.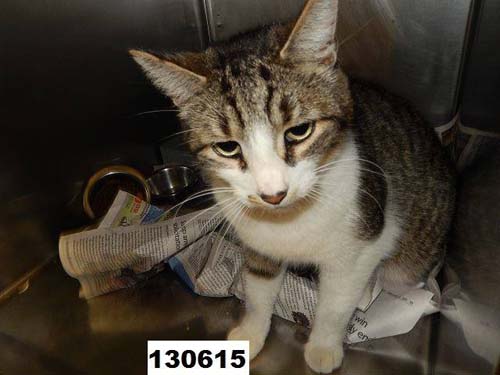 What that meant for this poor guy was that, instead of heading straight home, he became just another stray sitting alone in a metal cage. And, because he'd scratched his finder (probably because he was scarred), he had to be quarantined and assessed to see if he was even adoptable. What could have been so easy a process had shifted quickly from looking hopeful to looking really grim. It's hard to assess cats like this in a shelter setting; the really frightened ones can appear "unfriendly" - even vicious - and are at risk of being euthanized for "temperament."
Luckily for this fellow, Neveah's Charity of West Lincoln (NCWL) , one of the Hamilton area organizations that cats in this City depend on for a second chance, rescued him. On June 19 a message on their Facebook announced:
We rescued 130615 "ROONEY" from Hamilton Animal Services today...He is an absolutely stunning boy, very sweet and very happy to be able to walk around the facility. Rooney was microchipped but again no owner found. PLEASE REMEMBER IF YOU MOVE OR CHANGE YOUR PHONE NUMBER TO PLEASE CONTACT THE MICROCHIP COMPANY AND UPDATE YOUR INFORMATION - IT IS VERY IMPORTANT!
Some day (hopefully soon), Rooney will be moving on to a new home where he'll make a wonderful pet for some great family. And NCWL will make sure his new owners know how to register the chip and keep their contact info current so that if ever he goes missing again, he'll make it safely back home to them.
To register a microchip and, should you move or change a cell phone or email, to update the contact info, you'll need the microchip #. So keep it on file and, if ever you misplace it, ask the vet who implanted the chip or the organization from which you adopted your cat for the #. If you can't get it this way, any vet office can quickly scan your cat and give it to you.

Remember Rooney; he's a reminder to all pet owners that:

MICROCHIPS WORK… ONLY IF THE CONTACT INFO IS KEPT CURRENT.
- - -
May 07, 2015
Getting Hamilton Cats "Fixed"

This is the time of year when frantic owners offer "kittens for free", rescue groups are swamped with calls to take litters, and pregnant moms and newborns fill the cages at HAS.

The reality is that, with every new litter, the situation keeps getting worse. There aren't enough homes and, for many of these cute little kittens, life will be painfully short.

It was to make the this kitten season better that the HBSPCA posted this notice up on their Facebook page: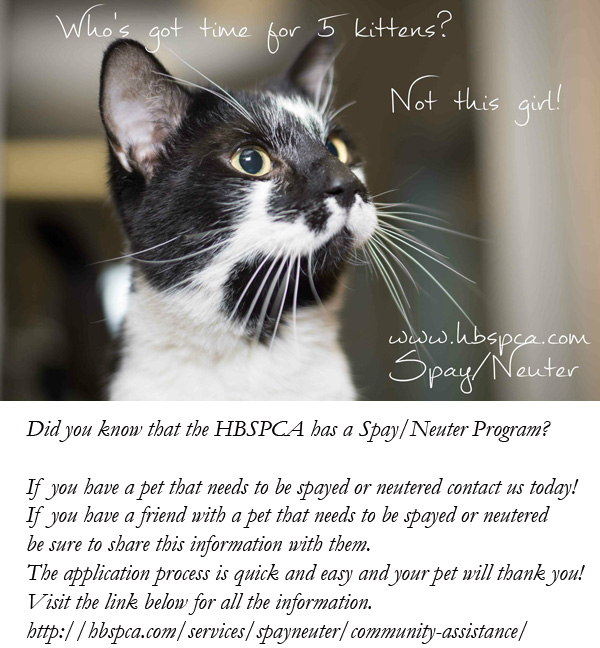 The price, including the spay/neuter, revolution, microchip and a Rabies vaccine, is $60 for males and $80 for females. And there's no tax.

People in Hamilton keep saying they can't afford to get their cats "fixed."

Often they just don't know that programs like this are available in the City, and many people are thinking of spay/neuter as a luxury or as something they can put off to another day.

So, the very first question we've addressed on our Q&A section being launched today is:
"How (and Why) do I get my cat fixed?"
- - -
April 27, 2015
Licensing: Would it help Hamilton Cats?
On March 11, the walls of Hamilton's City Council room rang with the repeated chorus: "Hamilton is the worst city in the country when it comes to killing cats." And councillors responded by passing a motion instructing city staff to examine the feasibility of "implementing a Cat Licensing Program within By-Law 12-031".

The idea behind all of this is that, if cat owners are required to pay a yearly $10 fee for each spayed/neutered cat (more for "unfixed" ones), Hamilton cats will benefit because those with licenses will have a much improved chance of making it safely back home if they ever get lost and the revenue from license sales will fund much needed programs such as an adoption service, low cost spay/neuter, TNR, and microchipping.

To any cat lover all of this sounds good and well it should but, if you ask whether these benefits are for real, here's some information to consider.

Would a licensing by-law increase the odds on getting lost cats back home?

Those who argue for licensing point to Calgary attributing a cat licensing by-law implemented there in 2007 for a return-to-owner (RTO) rate around 50%. Compared to Hamilton's rate of under 4% that sounds pretty amazing. The problem is that Calgary's rate is based on data from only Calgary Animal Service (CAS). In Calgary, unlike Hamilton, many services are contracted out to another organization Calgary Humane Society (CHS) and it's this other organization that handles the majority of the cats. If you examine the 2014 stats for CAS, the RTO rate is 43% but, if you combine the data with that of CHS, the rate drops to 17%. If you look at the rate in other cities that have opted for cat licensing, most report much lower RTO rates. Toronto's 2014 RTO rate, for example, was 7%.

As well, the assumption that if more cats are getting back home in cities that require licensing, it's BECAUSE they're licensed, doesn't hold up. Sure, ID plays a big role in getting lost cats back home but shelters aren't keeping data that distinguishes between different forms of ID. So, there's no way to know if license tags work better than other tags - or how large a role microchips are playing. Most agree that, even though some cats refuse to wear or quickly lose them, collars are important. But the notion that license tags are better (because of perks like a 24 hour phone # and rides back home) isn't backed up by evidence. And, as microchipping becomes more and more recognized as the only valid proof of ownership, proactive cities are focusing on low cost microchipping programs to make this one-time-cost affordable, getting out the message to keep contact info up-to-date, and encouraging active searching.

Would fee revenue fund services that will help Hamilton cats?

Well, this would rely on there being enough money left over, after expensing out administrative and enforcement costs, to guarantee a net profit. Advocates again point to Calgary, making claims that 90% of cats there are licensed and that the collected fees pay for the many things the city is doing for cats. But the reality is quite different. While Calgary may be doing well with cat licensing sales (maybe 30% but nothing close to 90%) and their licensing program likely generates some money after expenses, there's is no basis on which to make the claim that licensing is what pays for all the good things Calgary does. Nor can you expect that Hamilton's sales will generate enough even to cover costs.
There are many reasons for Calgary's success:
- Calgary has long refused to set arbitrary limits on # of pets allowed per household. People there can adopt (and buy licenses for) as many cats as they can responsibly care for. In Hamilton, the limit is 4.
- Calgary is a relatively wealthy city ranking 2nd in the world on the prosperity index which translates into more people who can afford to care for cats and more money for City run programs and the city's many donor-funded cat organizations.
- There is an effective co-operative effort between these organizations which includes a network of veterinarians whose offices serve as a drop off point from which lost and homeless cats are picked up.
- Calgary offers a wide range of services, including no-charge owner surrender, that cast the city in a positive light.

Some other cities that opted years ago for cat licensing have questioned whether it's worth continuing. They're not reporting the level of citizen support or the impressive license sales and it's uncertain that their revenue even covers the costs. Toronto, for example, which has been aggressively (and expensively) enforcing and promoting licensing - hiring students to go door-to-door and offering perks, like $10 microchipping for licensed cats - has an estimated compliance around 7% (compared to Calgary's 30%).

While many annoyed responsible pet owner may be shrugging this motion off as just another money grab or just one more unenforceable by-law:
- what if this licensing program is implemented and it doesn't generate enough money to pay for itself? Who's going to pay for it? Will we see fees jacked up to cover expenses? Will staff time be diverted from current activities like providing care to the Shelter cats?
- what if, with the number of homeless cats already exceeding the number of potential adopters, it leads to even more being abandoned or left unclaimed by owners? and
- what if potential adopters, seeing it as another expense (or bother), change their minds?

Copying other cities isn't always a good idea and, if it hasn't been thought through, it can be a bad one. Maybe, it's time for this City to seriously consider the options and do what's best for Hamilton cats!
Motion can be found on page 10 at: http://www.hamilton.ca/NR/rdonlyres/D1E91F3C-7495-4DE0-952E-E4586E272A07/0/Feb25CouncilMinutes15004.pdf
- - - -
April 14, 2015
Special Cats/Special Adopters
People are drawn to the cuddly kittens, the young, the exotic, the picture-perfect lap cats. It's the older ones, the black ones, the shy ones,
and the ones with health issues - who get left behind.

The reality is that a large proportion of the cats transferred from HAS to the organizations that work to find them homes are in this "difficult-to-adopt" category.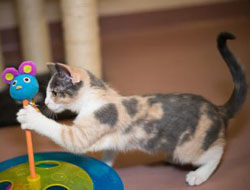 The Featured Cat we posted just yesterday was one of these adoption challenges. She'd arrived at HAS as a particularly fragile kitten and was transferred quickly to HBSPCA in response to an urgent request for help. In her foster home, she thrived and started looking (and behaving) like any other happy little kitten.
But Checkers wasn't any ordinary kitten; she was a special-needs kitten. Because of her hereditary condition (Pectus Excavatum) she would, for the rest of her life, require vet checks (including X-Rays). She'd be prone to serious illnesses like pneumonia. The risk would always be there; her life could be cut short. Any potential adopter, would understandably hesitate.
When Checkers moved from her foster home to a cage at the HBSPCA Shelter, she was dreaming, as they all do, of getting adopted. And when, even after a month of watching others get chosen, she still showed no sign of being discouraged, it was as if she knew that the special adopter she was waiting for was about to walk in - any minute.
And she was right. It happened yesterday. On the very day we posted her as our Featured Cat, Checkers was adopted! That's a record but it had nothing to do with our having featured her. The special adopters, it turned out, were her very own foster parents They'd been checking daily to see if she'd been adopted yet and they couldn't bear to see her wait any longer. They were agonizing about her - worrying about how things would turn out for her. So, they adopted her themselves. They'll love her for all of the days, months or years that she has - and she'll love them too.
Adopting always means taking responsibility. It's a "till death do we part" commitment and, in the case of a cat like Checkers that means being prepared not only for vet costs but also for what could be an emotional roller coaster. It's a choice, however, that means the world to these cat - and, no doubt, this spunky girl is determined now to enjoy every moment of her life with her wonderful family.
Our new Featured Cat, "Conway," is one who was watching a bit enviously (and sadly) when Checkers lucked out. He's a nice guy - not a kitten but young (only 3 years old) and he's fit and healthy. While he wishes her well he wants people to know that he's been waiting a long time too - maybe just because he's black. He gets out for a bit of exercise daily but he doesn't like being caged. Conway needs a home. They all do. Link to Adoption Page
---
April 13, 2015
A Twist in India's Tale
This lovely young tortie came into HAS in January. Spayed, declawed, and affectionate, it was obvious that she was lost but she had no ID and her owners never came looking; so, she was transferred to a rescue group and put up for adoption
.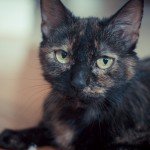 In March she was posted as our Featured Cat and odds were good that she'd find a new, and truly forever, home soon. Then, a mammory tumour was detected. She came through the surgery well on April 1 but, on April,10, lab results came back showing that the tumour was cancerous. The entire lump had been surgically removed and the hope, of course is, that the cancer has not spread beyond that tumour. But...there are no guarantees...
These health issues will make it a lot harder for India to be adopted, but as Ladybird Animal Sanctuary puts it "we know there are awesome people out there who will look into India's eyes, see past the potential health issues and into the soul of a beautiful cat in need of love and a forever home." She's recovering in her foster home now, being lovingly cared for by her foster dad, she's being monitored closely and fingers are crossed that there will be no more twists in India's tale. Ladybird is posting updates here.
---
March 31, 2015
Remembering Professor Higgins

His owner died; the relatives dumped him outside. He wasn't young; the shock took its toll.

Seeing how terribly he was suffering, a neighbour took him in. But her own diabetic cat, whom she could barely afford to feed, couldn't cope with having Higgins around. So, all she could offer him was her basement. It was cold, damp and dismal - and it was temporary.

This lady had to move out of the house soon; his next stop was to be HAS. Higgins was painfully thin, very weak, dragging his hind legs and tilting his head due to a stroke. And he was horribly matted. He was a very sick cat; it was obvious to her what would happen to him there. She kept putting off that call.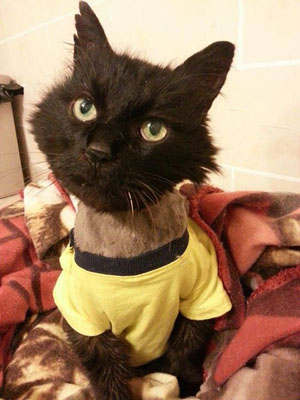 She made one last plea for help, ending her message with: "He deserves a chance."
And he got his chance.

When he arrived into the care of Special Ones Cat Rescue on that Saturday afternoon (February 7), it was instantly clear, however, that the chance was a slim one. It took several hours to cut out the urine-soaked mats; he had to be clipped from neck to tail. The vet who saw him prescribed an ointment for the abscesses that covered his skin, antibiotics for a severe bladder infection and painkillers. That night he snuggled into the clean, warm blankets in his cozy bed, purred a "thank you" and fell asleep. The next day, a volunteer brought him a wardrobe of soft baby clothes. In the next few days, as his skin cleared, blood tests came back normal, and there were signs that he was gaining strength in hind legs - hopes grew.

A fundraising campaign got underway to cover costs for his ongoing treatment (and for major surgery that would likely be necessary once he got strong enough). Donors cheered him on. He was moved into a foster home where he looked out windows, felt the warmth of sunshine and savoured treats (especially Temptations which he loved). Feeling safe again, he was catching precious glimpses of a life he hadn't dared to dream of. He was so cute, so grateful, and he was fighting so hard.

But last week, that fight had to be ended. He couldn't make it and, with nothing ahead for him other than increasing agony, the decision, which every devoted owner and cat rescuer dreads, had to be made. It wasn't the happy ending that everyone had wanted. His lovely black fur would never grow back. He'd never be strong and healthy again. He'd been given the chance he deserved and, on March 27, Professor Higgins, was given the only thing left that could help him - the chance for a dignified death.

In remembering this special cat, we're reminded of the painful reality that, with every response to give a very sick cat the chance they deserve, comes the risk that, at some point, euthanasia will be the only option left.
----
March 10, 2015
The Story of Princess and Little Tyke
Recently a woman contacted Rescue Hamilton Cats (RHC) with a desperate plea. She'd left her cat, Princess, with a friend "for a few days" and, now, a month later, she was living in Montreal with no money and no way to get back to Hamilton. Her friend, a single mom with several small children, allergic to cats and not a cat lover, had been keeping Princess locked in her basement and she'd just given birth to a kitten. Her options were to dump them outside or figure out a way to get this mom and kitten to HAS.
Then a rescue group (way off in Markham) managed to find a foster home placement. So, Sunday, a driver (volunteering with Hamilton Street Cats) went into the basement, lifted these two off the plastic sheets covering the cold concrete floor and onto warmed blankets in a carrying case and transported them to the foster home.
As can be seen from the photo below (taken at the time of the rescue) Princess is a devoted mom to her baby, now named Little Tyke. They're warm and cozy now, as they will be, till Rescue Angels finds them their forever home
This story, as well as being heartwarming, serves as a reminder to Hamiltonians of the bigger picture - the story of the moment in this City.
Every rescue like this one means that one (or in this case 2) fewer cats land at HAS to swell the numbers on the inside. As we know from the stats of 2014 (see News Alert of Feb.22 below), the lower the Intake, the better the conditions at HAS and the higher the odds that HAS strays will get the chance to get adopted.
Local rescues are playing a huge role, and are responding to as many of these desperate pleas for help as they possibly can. So, reaching out for help to out-of-town rescues willing and able to lend a hand is also something we need to do.
---- February 11, 2015 What the 2014 stats say about Cats at HAS
Based on comparisons with 2013 (and previous years as far back as 2006), one can make the following conclusions:
INTAKE in 2014 was significantly down (by 540) from 2013, showing that the downward trend that started in 2010 has continued through a 5th year. This decrease primarily of "Strays", is likely attributable to limitations on the pick-up service that started in 2010. If one looks back to 2006, when the Total Intake # was 6,218, and compares that with the 2014 Total Intake of 2,835, the difference is 3,383 cats/year. This huge drop should be impacting positively on the cats at HAS, allowing for improvements to the conditions (and the care) provided. See Intake page.
In 2014, 96 of the 2,132 strays (3.9%) were reclaimed by owners. There are no indications of significant change in this Return-to-Owner rate in recent years; the rate has consistently remained in the 3.9% range.
HAS has never had it's own adoption centre. Instead it operates on a model whereby adoptable cats are transferred to organizations that run adoption services. This arrangement involves a co-operative effort with the HBSPCA and a number of "approved" Rescue Groups. In 2014, a Total of 2,036 cats (72% of the Total Intake) were transferred out to these organizations, with the HBSPCA taking 671 (33%) of those and the Other Groups (combined) taking 1,365 cats.

Looking back over past years, two points emerge:
- The HBSPCA has, for 5 consecutive years been increasing the # of cats transferred from HAS into their adoption program.
-The Other Rescues fluctuate year by year and, in 2014, their rescue # was significantly down from last year's total of 1,752 and from the average (over the past 8 years) of 1,567.
To check further into the Return-to-owner and transfers out rates and consider how these can be improved see Discharge page.
The # of cats euthanized at HAS in 2014 was 641 (23% of intake). That's down by 330 from 2013 and down by 2,524 from 2010 numbers at which point over 50% of the cats at HAS were ending up euthanized. To examine this downward trend more closely, how intake relates to decisions to euthanize and to look into what reasons were given to euthanize in 2014, see Euthanized info page
As 'cats' become a political issue in 2015, it is important that decisions be based on up-to-date facts, not perpetuated myths or past history.
---
February 9, 2015
Hamilton Spectator
City-SPCA partnership could reduce euthanasia
"A Hamilton councillor wants the city to get involved in pet adoptions by partnering with the Hamilton Burlington SPCA,
if it's feasible. Read more
See also on CBC (February 11, 2015)
Should the city get into cat adoption?
Local animal lovers are keeping their fingers crossed this week as a Hamilton councillor takes another stab at getting an animal shelter to adopt out potential pets. Read more
---
January 19, 2015
Keep Adoptions Happening in 2015
Meyer & Benson (pictured in the January 5 News Alert below) got adopted on January 16 by a wonderful family.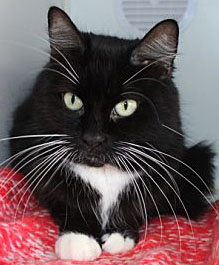 This purrfect pair has "landed on their paws" but there are many more cats and kittens, rescued throughout last year, who are still waiting to get on with their lives.
Our newly posted Featured Cat on our Adoption Page is one of those who has been waiting a very long time. Margueurite, this lovely young girl with the long whiskers and bright eyes and gorgeous fur coat, arrived at HAS very skinny, scrawny, sick, and scarred. Like so many who end up there, she'd been through a lot.
But, once rescued, nourishing food, excellent care, affection (and a few catnip pillows and toy mice) quickly restored her weight, her health and her spirits. She's waiting now, dreaming about what life will be like in her own forever home and hoping that some special person will come along soon and make her dream come true.
----
January 5, 2015
Ringing in the New Year
The pretty green-eyed girl pictured with the Grinch in our December 15 News Alert (see below) had lots to celebrate on New Year's Eve. Just days before, on December 29, she'd been adopted by a lovely couple and was "at home" settling in to her wonderful new life.

Arica was our December Featured Cat and it was great to get the news of her adoption. It feels good to start the New Year thinking about her and all the other cats whose stories, despite having taken a tragic twist during 2014, ended the year on a happy note.

Like too many Hamilton cats, Arica had fallen on hard times and landed, homeless and desperate, inside Hamilton Animal Services (HAS). She was among the large proportion who moved from there into the care of groups that put them up for adoption. By New Year's Eve many of these rescued cats had been adopted too and, like Arica, had lots to celebrate.

But many others are still waiting, including kittens left over from a long and difficult "kitten season." Our January Featured Cat(s) are a bonded pair of playful kittens. Born inside HAS to a mother who had arrived there pregnant (and sick), they were the only two of the litter to survive. They're a very lucky pair.

Their adoption, like every one in 2015, will signal not just a a happy ending/fresh beginning for them but also a chance for another to get rescued and eventually find a home.

Many cats who arrived at HAS in 2014, including some from as far back as October, are still waiting to get their chance. And coming through the door to swell the ranks are the lost, abandoned and discarded ones of 2015.

So, we'll ring in this New Year with the old, familiar and never to be forgotten message:
ADOPTION IS WHAT KEEPS THE WHOLE RESCUE EFFORT MOVING!
---
December 15, 2014
Adopting at Christmastime?
A timely article entitled "Holiday adoption myth-busting at the SPCA" appeared in the Hamilton Spectator on Saturday (December 13).
The myth, of course, is that it's a bad idea to adopt at Christmastime.Many of us have in our heads those awful images of chaotic Christmas mornings and terrified kittens wearing bows who get ignored, lost amidst the excitement, and later discarded like unwanted gifts.
Anyone who cares about animals wants to avoid that kind of thing and this article provides some reassurance that the reality is generally quite different and that adopting this time of year can actually prove to be a good idea.
It starts off with the statement that "contrary to the myth, the holiday season is a fine time to take home a new pet - as long as everyone is prepared." And it offers some convincing arguments for holiday adoptions as well as some good ideas about how to think it through. Anyone considering adopting this season may want to read it.
The HBSPCA and all the rescue groups in Hamilton are working hard this December to find loving, forever homes for the cats and kittens in their care. They're doing this through special adoption events and through stories, pictures and some really cute and creative artwork on their Facebook pages.
Our Featured Cat for December is pictured belowwith the Grinch. We're hoping that this lovely green-eyed girl and many, many other rescued cats who are dreaming of being home for the holidays will get their wish, celebrate a Merry Christmas and purr their way through many Happily-Ever-After Years.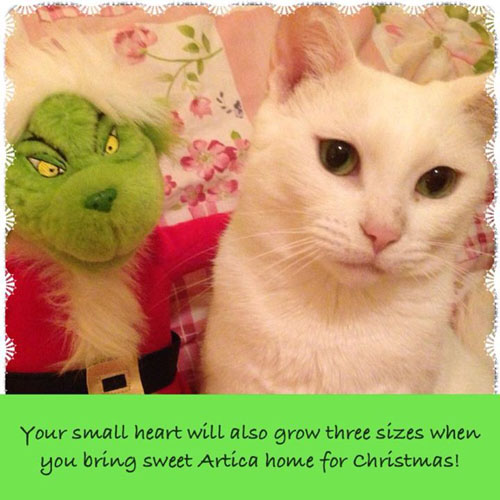 We hope that she and many other rescued cats will get their wish and celebrate a Merry Christmas and many Happily-Ever-After Years at home with their very own families.