We're cat lovers living in Hamilton, Ontario who have become aware of the sad plight of the far too many homeless cats in our city. In the short term, we want to facilitate ongoing efforts to rescue, care for and find forever homes for those who are abandoned, orphaned and desperate. In the long term, we're hoping to play a part in changes, some already planned or underway, that will make Hamilton a safer, happier place for all the cats who reside here.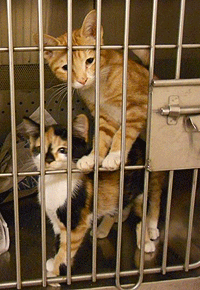 We are not aligned with Hamilton Animal Services (HAS), the City of Hamilton or the HBSPCA. We do not speak for them or for any rescue group or organization listed on this site. Nor do we presume to have all the information or all the answers.
We're individuals from varying backgrounds who have shed the immobilizing sense of helplessness and hopelessness, learned about what's going on, and thought seriously about practical, constructive solutions. Each of us, drawing on our own skills and resources, is actively involved in helping cats.
The idea for Rescue Hamilton Cats (RHC) originated early in 2012 when two of us, equally concerned and coming at the issues from quite different directions, "put our heads together."
Kim, as well as being a devoted parent to her own ex-strays, was fostering for rescue groups and, as a volunteer driver, transporting cats (mostly from HAS) to in-town and out-of-town rescue groups. For a glimpse into what all this entailed see "Meow Chatter." The final posting there, a video featuring a neutered cat named Scooter, signals the shift of her focus into efforts to reduce the number of unwanted kittens born every year in Hamilton. So, now, while still fostering and transporting, she's also involved in co-operative spay/neuter and TNR initiatives through Hamilton Street Cats.
Tana, back in 2012, had recently adopted a second Hamilton stray. (Read this personal adoption story.) Knowing she couldn't take them all, she was volunteering on the adoption side, helping rescued cats find forever homes. And she was learning about what was happening at HAS, and connecting with rescue groups. With a background in research and journalism, she's the one asking questions, checking out facts, seeking out relevant material for the RHC Info pages, responding to the messages we receive, and posting "News Alerts".
Technical support for the website comes from others volunteering their time and skills. As we continue to develop our knowledge base, our network of informed, concerned and involved citizens is continuing to grow. All of us, who are part of this network, are committed to remaining positive, staying informed, moving forward, and remaining focused always on the cats - and what's best for them.
If you have questions or concerns or if you are, or would like to become, involved in making things better for Hamilton cats, please get in touch here.