When this web site was launched in mid-September 2012, the Information Section remained 'under construction' for longer than we had expected; that's because we kept running into confusion and controversy that needed to be untangled.
It was awful to think about cats and kittens being put to death but, undeniably, that was largely what was happening at HAS. For cat lovers, this reality was enormously emotional. Naturally, passions ran high; feelings of frustration and desperation - even anger - were understandable. But it was too easy to get swept along - guided (or misguided) by strong opinions, firm beliefs, and unquestioned assumptions.
Despite a sense of urgency, we were determined to get our facts straight, our information accurate and to stay current. So, we asked questions, looked at media reports, examined data and talked with people.
Things have changed at HAS and in the city. Some people think it's for the good, others aren't so sure.
The information below and in the pages that follow is basically about how things worked in 2012 and 2013. and through to the end of 2014.
By 2015, so much had changed regarding HAS that a new way of describing what was happening was needed. In the summer of that year, we prepared a Mid-year 2015 report on what was happening at HAS. Then, based on year-end data, we prepared a 2015 Final Report that focuses on recent changes, highlights trends, and provides a picture of how HAS operates now - and what it does (and does not do) for cats.


We made no claim to have all the facts but we spoke with reasonable clarity about what was happening, what was being done, and what needed to be done in order to address, in a genuinely constructive ways, "the cat crisis" in Hamilton.

As for how it was in 2012 ...

"Some of the still widespread misunderstandings are historical, dating back to the time when HAS was created as an entity separate from the HBSPCA. Here's a quick summary of what you need to know about that time and about what these two organizations are doing now.

What you need to know about Hamilton Animal Services (HAS) LINK

HAS, which many people still call by its earlier (pre-2011) name, Hamilton Animal Control (HAC), is a municipal service under the management of the Parking & By-law Services Division of the Planning and Economic Development Department of the City of Hamilton.

It has existed since January 1, 2003, when, as part of a realignment of animal-related matters, the city took back its animal control services from the HBSPCA. These two, now completely separate organizations (with very different mandates), continue to be housed in the same building and that "living arrangement" is a partial cause for lingering widespread misunderstandings about what each does and how they divide roles.
HAS's first priority is "the health and safety of the general public." It is a municipaly-funded service, mandated to provide, in accordance with the current animal by-law, specific services pertaining to all animals (wild, farm, and domestic) in the Greater Hamilton area.

It provides services such as removing carcasses from public and private property, transporting injured companion animals for emergency services, responding to calls about dangerous or vicious animals and enforcing bylaws.
Specifically in regard to cats, the current animal by-law, adopted in 2012, entitled the Responsible Animal Ownership By-law ,says that 'owned' cats, while not required to be licensed or kept indoors, are not allowed to leave the owners' property and wander freely in the neighbourhood unless neighbours are okay with that. HAS does not "proactively pick up cats that are roaming around" but it does respond to complaints about 'owned' cats - taking a step-by-step approach that involves first warning the owner and trying to work things out before issuing fines or, as a last resort, impounding the cats.

Prior to January, 2011, HAS was responding to all public requests for the pick-up of "strays" at all hours including weekends & holidays. At that point it started to cut back on this pick-up service. Currently, while still responding 24/7 to emergency calls, the hours for non-emergency pick-up are restricted to 8am to noon, Monday to Friday and vehicles are dispatched only under special circumstances - determined on a case-by-case basis. Other cities across Ontario have been similarly cutting back on pick-up service for some time (many having eliminated it entirely) as a way not just to cut costs but also to reduce intake and thereby reduce the numbers of cats that end up being euthanized due to overcrowding.
HAS is required to accept (during business hours) all cats dropped off at the door as strays as well as (for a fee) owner surrenders. It is authorized to close the doors only during periods of extreme overcrowding. (For stats on HAS Intake)

HAS is required by the Animals for Research Act ("ARA") to keep impounded animals for a period of not less than 72 hours (not counting holidays and day of arrival) and to provide medical care (to the extent the funds allow). Contrary to a wide spread belief, HAS does not "just euthanize" them after 72 hours. This is the minimum time animals brought in as "strays" must be kept (in case there is an owner to reclaim the animal.) In reality, cats often remain there for much longer - weeks or even months.
HAS operates a "lost & found" service,through which it tries to contact the owner of any cat with an ID and posts information (including photos.) Relying on owners to search for and reclaim their pets, HAS leaves these postings up for as long as the cat is in HAS. For current postings
Included in these postings are cats that were picked up deceased. Every year that # is disturbingly high (around 600) and the return-to-owner # is dismally low (hovering at only about 4% of those brought in alive). So, HAS, as part of an effort to educate about responsible pet ownership (and keep cats safer), encourages owners to keep their cats inside and to license them and to provide ID, including microchips and collars with tags. They offer a service whereby, for a small fee, cats can be registered with them. But, because cats, unlike dogs, are not required to be licenses, few cat owners take advantage of that service.
HAS, does not have an adoption service. Instead it operates an adoption program through which, in co-operation with the HBSPCA and a number of local and out-of-town rescues, a large number of the unclaimed cats and kittens, are given the chance to get adopted into forever homes. For more about this program and the stats from 2006 to the present that give an indication of how well it's working take a look at the Discharge page.
HAS has long been seen as a "high kill" shelter - one that euthanizes more cats than other municipal shelters. For a long time the loudly voiced criticism had a ring of truth. However, for several years now the #s euthanized have been on the decline and, as of 2013, there is finally a notable trend toward a decline in euthanasia rates.

To get a sense of the historical, and currents stats, and an understanding of the reasons for euthanizing Click Here.


What you need to know about the Hamilton Burlington Society for the Prevention of Cruelty to Animals (HBSPCA) LINK

HBSPCA is a private non-profit animal welfare charity supported by donations, program fees (e.g. adoptions, dog obedience training, child & youth programs), fundraising (e.g. events, appeals), and bequests.
In accordance with its mandate to protect animals from people, it conducts cruelty investigations, cares for animals in its companion animal hospital, kennels and foster homes, and promotes responsible pet ownership. For a quick glimpse into what they did in 2013.

Specifically in regard to cats, HBSPCA runs an adoption service, offers microchip clinics (so that more lost cats can make it back home) and provides low-cost spay/neuter and trap/neuter/return (TNR) programs aimed at addressing the City's cat overpopulation problem.

While many of the cats and kittens that find homes through the HBSPCA's adoption service arrive as owner surrenders and a few come in through cruelty investigations or the TNR program, the majority are ones that have been transferred over from HAS.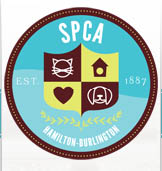 People often express surprise that HBSPCA doesn't directly take in strays. However, this is one aspect of a practical division of roles which leaves it to HAS, as the City run open-door shelter, to process all incoming strays and operate Hamilton's only lost & found service.

An arrangement is in place whereby HBSPCA, with an on-site companion animal hospital and shelter, transfers to their side of the building as many stray cats as possible. As the HBSPCA states: "When space is available, animals that our staff deem adoptable…become the responsibility of the HBSPCA, are medically treated and made available to the public for adoption."
There is no set number of HAS cats that reach the safety of the HBSPCA and the rest - those left behind - rely on the other independent non-profit groups to come in and rescue them. More about adoptions .
The reality is that all of these groups operate with limited resources and eventually any cat not reclaimed by an owner, transferred to the HBSPCA or taken out by one of these rescue groups, is in danger of being euthanized.