!

February 13,2018
Adoption Stories/Love Stories
Fairen (above) and her brother Fabian (below) were rescued at 5 months of age in terrible shape. Poor Fairen weighed less than a 6 week old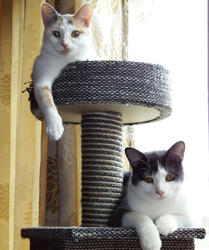 kitten and had such a severe upper resp infection that she was blind and barely breathing. The vet hadn't expected her to live through the night. But she did! Fairen and Fabian grew up together to become healthy cats. Devoted to each other, they wanted to remain together "forever after." So, when they were ready to be adopted, Pantry Four Paws - the group that had rescued them, featured them on their web site as "the miracle kids." Days, weeks and months passed and it seemed that no adopter would ever come along. But now they are happily settled in to their very own forever home. Their adoption became official this month - just in time for Valentine's Day.
The story of Fairen and Fabian is a particularly touching one. But every rescue story that ends with a cat being adopted and getting the chance to live "happily ever after," is a cause for celebration! And every one of these stories is a love story.
It's February and love is in the air. All the local groups that run adoption services are posting special events on their web sites and stories on their facebook pages. They're working to create happy endings to the stories of the cats in their care.
So, if you're wanting to find your purrfect match, check the sites of the rescue groups listed here: http://rescuehamiltoncats.com/Pages/Adoption.htm
****
January 31, 2018
Cat Rescue in Hamilton:
What's to be learned from the stories?
Since 2012, Rescue Hamilton Cats (RHC) has played a small role in hundreds of cat rescues. The major players have always been, and continue to be, the people trying to rescue the cats and the rescue groups and services that step in to help.
Each story is different; often there are twists and turns and, always, it's emotional.
In News Alerts from past years, we've reported many stories. Their value is in what they tell us about how cat rescue works and the glimpses they give us of the cats whose lives are saved.
2017 ended on a bitterly cold note. With temperatures in the -20C range a huge effort was underway to keep street cats warm and get at-risk strays inside.
An email received on December 29 that read "There's a cat nearly freezing in our back yard. Please call if you can help," ended with a phone number. The elderly man who answered explained that he didn't have email so had asked his daughter to send the message. He lived alone in a small room that he shared with his cat and couldn't bring this one inside. He'd put out some food and water (that kept turning to ice). There was nowhere to set up an outdoor shelter.
It was the Friday before the New Year's long-weekend. This cat wasn't going to survive until Tuesday. With rescue groups swamped and time running out, as a last-resort option, he called Hamilton Animal Service (HAS). They wouldn't do a pick-up but said that, if he got the cat there by closing time, they'd take it in. The man didn't have a car but managed to borrow a rickety old truck from a friend and, despite being afraid of driving in the blustery weather, managed to get the cat there.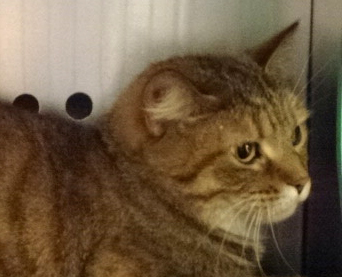 Then he started worrying about what would happen to the cat. We reassured him that conditions at the city-run shelter/pound were much improved from what they had been a few years back and said we'd try to let him know what happened. We kept checking and a few weeks later we saw that it was no longer there and discovered that it had been transferred over to Hamilton Burlington Society for the Prevention of Cruelty to Animals (HBSPCA). Once in their care, the cat had access to the on-site vet hospital where it was "fixed", vaccinated, microchipped, etc. in preparation for being put up for adoption. On January 20, we called this man to give him the news that the cat had been adopted and, finally, he could relax. There's little doubt that this story would have ended tragically had it not been for what this man did and for the services provided through HAS and HBSPCA.
While getting cats in from the cold winter weather continued to be a focus through much of the first month of 2018, many of the rescue stories had different themes.
A January 29 email we received read: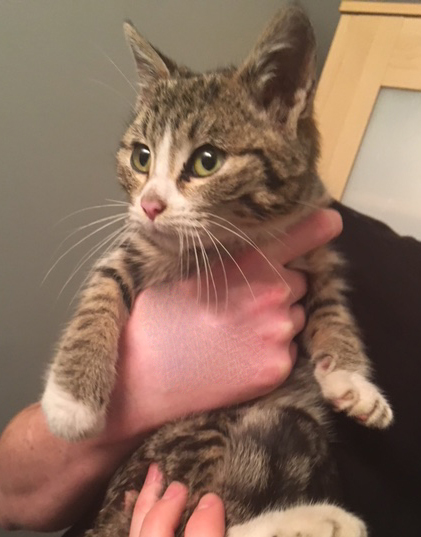 "We found a stray kitten this morning. We aren't able to keep him as we have 2 cats, 2 dogs and 1 bird from earlier rescues. Right now, he is in our house, and I have a separate feeding, bed, and litter area for him. But he has developed severe diarrhea. Is there a rescue that could take him? We would be willing to foster him for the time being if that would help... but he does need to see a vet and we can't afford that. Can anyone help?"
That message was forwarded right away to a rescue group - Abandoned Cats Rescue (ACR) which, because this couple were prepared to foster, was able to quickly respond. The first priority was to get this kitten to a vet which ACR arranged immediately. With the vet costs being covered by ACR, the couple were able to call for an appointment, take this sick kitten to the vet and get him checked over. They started him on the prescribed meds and, by the next morning, excitedly reported that the diarrhea was gone and that "Riggs," as they had named him, was looking perkier and starting to play. After he's given a clean bill of health by the vet, Riggs will be put up for adoption. ACR will ensure that he's neutered, vaccinated and microchipped – and gets off to a good start in his new life in a loving forever home. This couple will be sad to see him go but happy to see his rescue story end as they had hoped it would.
Caring people can't always do it alone. That's where rescue groups and local services step in to help - and things work out happily.