THE HAMILTON SPECTATOR Jul 04, 2013
Kitten overload prompts SPCA special adoption rate
An overabundance of stray cats and kittens is forcing the Hamilton Burlington SPCA to offer a special adoption rate until Friday, and the city's Animal Control department to take to social media to entice more cat rescues in order to avoid euthanizing them.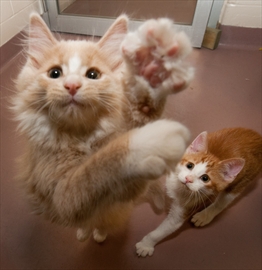 The SPCA's special fee is an effort to increase adoptions so the SPCA, as a major animal rescue agency, can then create space to take in more cats from Animal Control, which is forced to euthanize strays when it in turn reaches capacity. The SPCA does not euthanize the animals and is a no-kill shelter.
Animal Control for its part, is putting out the word through social media that Friday is a 'euthanization' day, in hopes more groups will come to the cats' rescue.
Animal Control supervisor Jim Gillis said the last time the city did this, 37 cats were rescued.
The SPCA is full to capacity with 100 cats and kittens -- as usual at this time of year because of the influx from spring kitten births and a decrease of foster families and potential adoptive families because they are on summer vacation, said Karen Reichheld, the SPCA's manager of animal care.
Eleven more SPCA cats are being housed at the Ancaster PetSmart store where they are also available for adoptions, Reichheld said.
The full house means the SPCA can't take in any more cats or kittens from Animal Control where strays are taken and where pet owners who no longer want them, surrender the cats.
The SPCA has taken $100 off the fee for feline adoptions to encourage more of them. The fee for kittens is $95 and for cats, $75. The prices still include the costs of spaying or neutering, vaccines, flea treatment, michrochipping and six weeks of pet insurance.
"Adoptions have slowed to an almost complete stop," Reichheld said. "It's just the reality of summer time...this is typical of the season."
Last summer the SPCA held a three-day special rate adopt-a-thon in which 94 cats were adopted, she said. The SPCA this year wanted to stretch it to five days but since Sunday, there hasn't been much of a change in the adoptions, Reichheld said.
"We need people to adopt so we're able to save more lives. I know they (Animal Control) are very full as well."
Gillis, at Animal Control, said the city has taken several measures to dramatically decrease the number of cats it has to put down, including reducing the number of cats brought in or picked up. While 3,000 were euthanized last year, this year, by the end of June (half way through the year) only 409 cats were, he said.
Of that 409 – 192 were put down because of poor health, 133 for distemper, seven because of age, two for behaviour, and only 75 for lack of space, Gillis said.
For critics of euthanizing, Gillis had this message: "If all those people who speak out against us would come in and rescue just one cat, we wouldn't have a problem."
Animal Control has contact with 30 rescue groups and has seen 1,600 cats rescued over the past three years through them, Gillis said.
Correction
A story in the July 4 Spectator gave the incorrect number of cats killed at the city-run Animal Control Shelter. In 2012, 3,919 cats came to city-run Animal Control and 1,782 were put down.
Follow-up July 05 2013
More than 50 felines saved by a whisker...